Product Specification
| | |
| --- | --- |
| Brand | Synergy |
| Width | 760 mm |
| Height | 1850 mm |
| Length | 900 mm |
| EAN Number | 7061257939164 |
| Range | Vodas 8 |
| Colour | Clear |
| Shape | Quadrant |
| Material | Glass |
| Size | 900 x 760mm |
| Waste Included | No |
| Overflow Included | No |
| Product Guarantee | Lifetime |
| Country of Manufacture | |
Product Specification
| | |
| --- | --- |
| Brand | Synergy |
| Width | 800 mm |
| Height | 2000 mm |
| Length | 1000 mm |
| EAN Number | 7061252205677 |
| Range | Vodas 8 |
| Colour | Clear |
| Shape | Quadrant |
| Material | Glass |
| Size | 1000 x 800mm |
| Waste Included | No |
| Overflow Included | No |
| Product Guarantee | Lifetime |
| Country of Manufacture | |
Product Specification
| | |
| --- | --- |
| Brand | Synergy |
| Width | 800 mm |
| Height | 1850 mm |
| Length | 1200 mm |
| EAN Number | 7061257559638 |
| Range | Vodas 8 |
| Colour | Clear |
| Shape | Quadrant |
| Material | Glass |
| Size | 1200 x 800mm |
| Waste Included | No |
| Overflow Included | No |
| Product Guarantee | Lifetime |
| Country of Manufacture | |
Product Specification
| | |
| --- | --- |
| Brand | Synergy |
| Width | 900 mm |
| Height | 1850 mm |
| Length | 1200 mm |
| EAN Number | 7061255843180 |
| Range | Vodas 8 |
| Colour | Clear |
| Shape | Quadrant |
| Material | Glass |
| Size | 1200 x 900mm |
| Waste Included | No |
| Overflow Included | No |
| Product Guarantee | Lifetime |
| Country of Manufacture | |
Offset Quadrant Shower Enclosure - 8mm Glass
Manufactured From Quality 8mm Toughened Safety Glass
Glass Is Coated In A Nano Technology Preventing Limescale
Features Quick Release Double Roller For Easy Access
Benefit From High Quality Magnetic Soft Closing Seals
Framed Design For That Smooth Modern Look
Delivery Information
Zone 1 Delivery From:
Zone 2 Delivery From:
Delivery Information
Deliveries
Unlike other online bathroom retailers we offer a premium delivery service, as standard, to all postcodes in zone 1. We have our own fleet of vans and our drivers are trained specialists used to handling and delivering bathroom products with care. Our drivers will deliver as close to the house as possible (however are not insured to enter your property) and will check the products with you before they leave.
The majority of online bathroom retailers are reliant on third party transport companies will only leave larger items palletised "curb side".
Your delivery driver will deliver to your front door on the ground floor, but is not able to take the goods into your property.

Some of the goods we deliver are heavy or awkward items, such as baths, shower trays or shower glass, and the driver will require assistance with the handling of these goods. With these bigger goods, when receiving or helping please be very mindful of the social distancing rules. If you have a mask or similar could you please wear when helping the driver. If you do not have a mask we will provide one, but using your own protection would be preferable.

Masks are not necessary with smaller items, but we still ask that you maintain the social distancing 2m.

Should the driver have any concerns then he will refuse to deliver.

Your understanding and help would be appreciated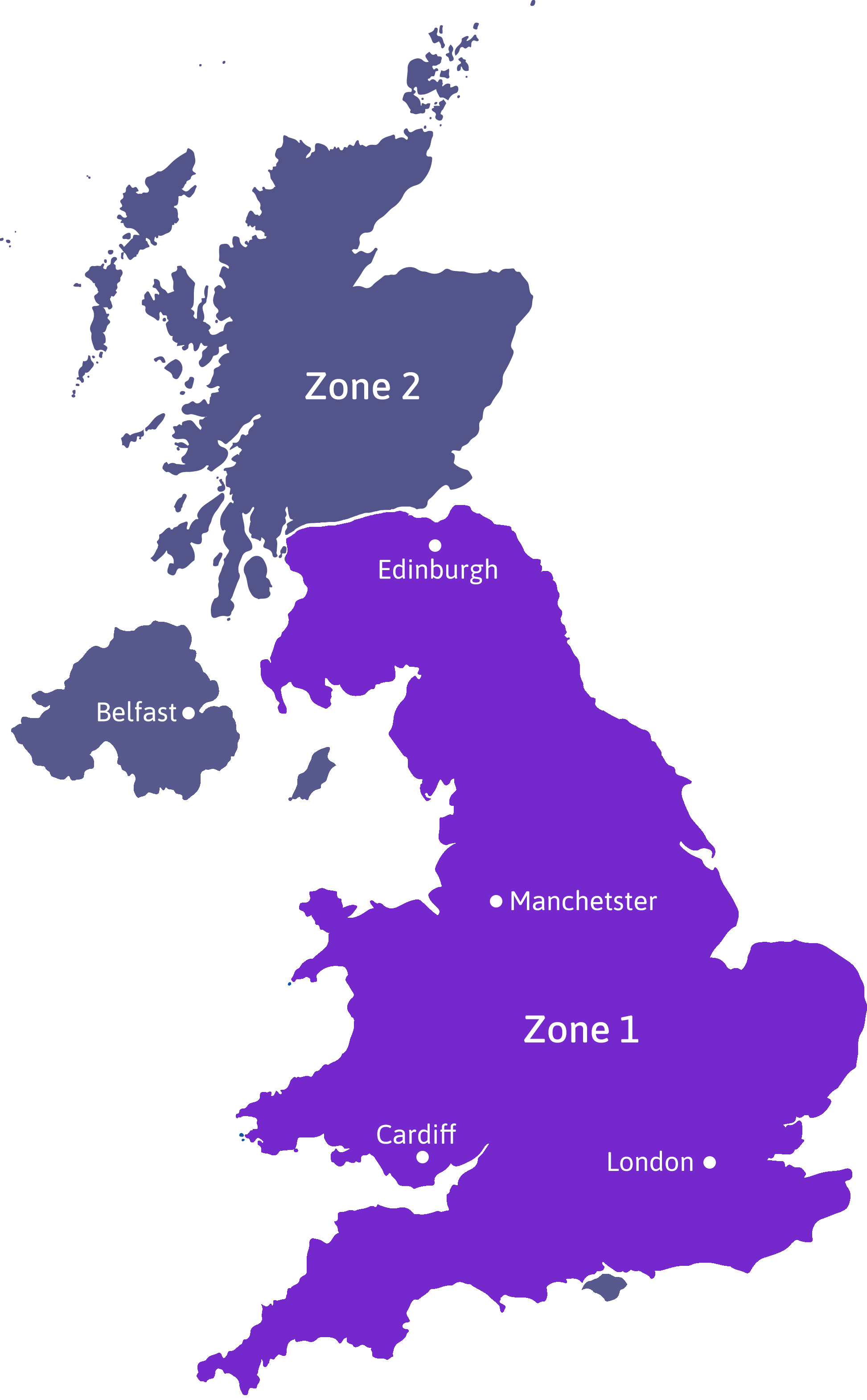 Delivery Map
The image below conveys our Delivery Zones, split into Zone 1 and Zone 2. Each zone has different delivery options and pricing.
Zone 1
Zone 2
Zone 2 Postcodes
The postcodes listed below will use Zone 2 delivery pricing.
| Postcode | Area |
| --- | --- |
| AB31-35, AB41-54 | Aberdeen |
| AB36-38, AB55-56 | Northern Highlands |
| BT | Northern Ireland |
| EI (ZZ75) | Eire (Republic Of Ireland) - |
| HS | Outer Hebrides |
| IM | Isle Of Man |
| IV | Northern Highlands |
| KA27 | Isle Of Arran |
| KA28 | North Ayrshire |
| KW | Northern Highlands/Orkney |
| PA20-78 | Argyll |
| PH15-18 | Perth & Kinross |
| PH19-29, PH32-33, PH45-48 | Northern Highlands |
| PH30-31, PH34-44, PH49-99 | Perth |
| PH44 | Canna |
| PO30 - PO41 | Isle Of Wight |
| TR21-25 | Scilly Isles |
| ZE | Shetlands |
| GY/JE | Guernsey/Jersey |
Delivery Tables
Delivery Zone Information
| | | | |
| --- | --- | --- | --- |
| Delivery Option | Zone 1 Standard Delivery | Zone 1 Premium Express Delivery | Zone 2 Standard Delivery |
| | £5.95 | £10.90 | £19.95 |
| | £19.95 | £34.90 | £49.95 |
| | £29.95 | £44.90 | £59.95 |
Next day service for orders placed before 2 pm in zone 1 (subject to stock availability)
Free Delivery on orders over £500

Other Offset Quadrant Shower Enclosures You May Like Instead...
Offset Quadrant Shower Enclosure - 8mm Glass
The Vodas 8 range provides a high end 1900 mm tall specification at exceptional value for money. The 2 door Offset Quadrant is a great option for a corner installation where you require additional showering space. There are three sizes, providing an option to suit any bathroom size. They Vodas 8 range is manufactured from 8 mm tempered safety glass for peace of mind. The chrome profiles co-ordinate with other bathroom fixtures and fittings and the doors are adjustable by 40 mm (side panels by 30 mm) making the enclosure easy to install. The sliding doors are robust and feature a double roller wheel system for smooth operation and a removable lift and clean mechanism makes it easy to keep the enclosure clean. All the Vodas 8 range come with top cover caps to finish off the enclosure neatly and feature easy clean Nano technology, a hydrophobic coating sealing microscopic holes in the glass making water stream off the glass, preventing limescale and soap deposits.